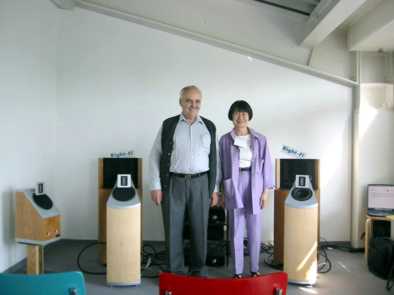 Mieko and Martin Dürrenmatt with the Oskar Heil speakers, Aulos, Syrinx and Kithara
Oskar Heil Syrinx and Aulos
Oskar Kithara, powered by Primare DVD30, CD 30.2 and amplifier A 30.1 with A 30.2 cables all MDM. The speakers were bi-amplified,.
Entrance to the Precide corner
Ergo headphones driven by Primare D 20 and A 20, with the Platinium front panels
a happy listener to the ERGO AMT headphones, driven by the new class A amplifier prototyp.
Armin Kern from ATR
with the Primare amplification for the home theater sytem
Link zu test von Heil AMT Syrinx
Link zu Test von ERGO AMT
by double clicking the image, you will receive a better resolution.